Dresses, dresses, dresses
Having more than one wedding reception is just an excuse to buy and wear many pretty dresses~ =P
We are planning on having an event each for our families in 2 different countries.  And we are planning to celebrate it with a few more parties with just different groups of friends on different weekends.
This means multiple dresses for multiple occasions!!
In Kuala Lumpur, my plan was to look for dresses below RM500 each, and get a few.  For our wedding, and practical enough for other occasions too.  I have been eyeing Melody Fashion and Bebe Butterfly.  Both have styles I was looking for (enough flair to be the bride, but enough simplicity to be a guest too) and both within my budget.  I knew I didn't want princess dresses, nor long trains, (nothing that needs me to wear an IKEA bag over my shoulders to stuff my dress in when I go to the loo) but everything else could be up for discussion.
First try to get a dress: browse through dresses online, link to the website/social media page, look for a contact, then reach out to them to ask for white gowns they have available.  I tried Melody Fashion who responded quite quickly.  I then was asked for my phone number, and was shot a few choices.  I then got invited to an appointment-only visit to the shop in Sungei Wang Plaza. * excited! *
Visited shop and purchased 3 dresses that was appropriate for our events and fits my style (not too bridal). All these for about RM500!! What a steal!
All these for about RM500! What a steal, innit?!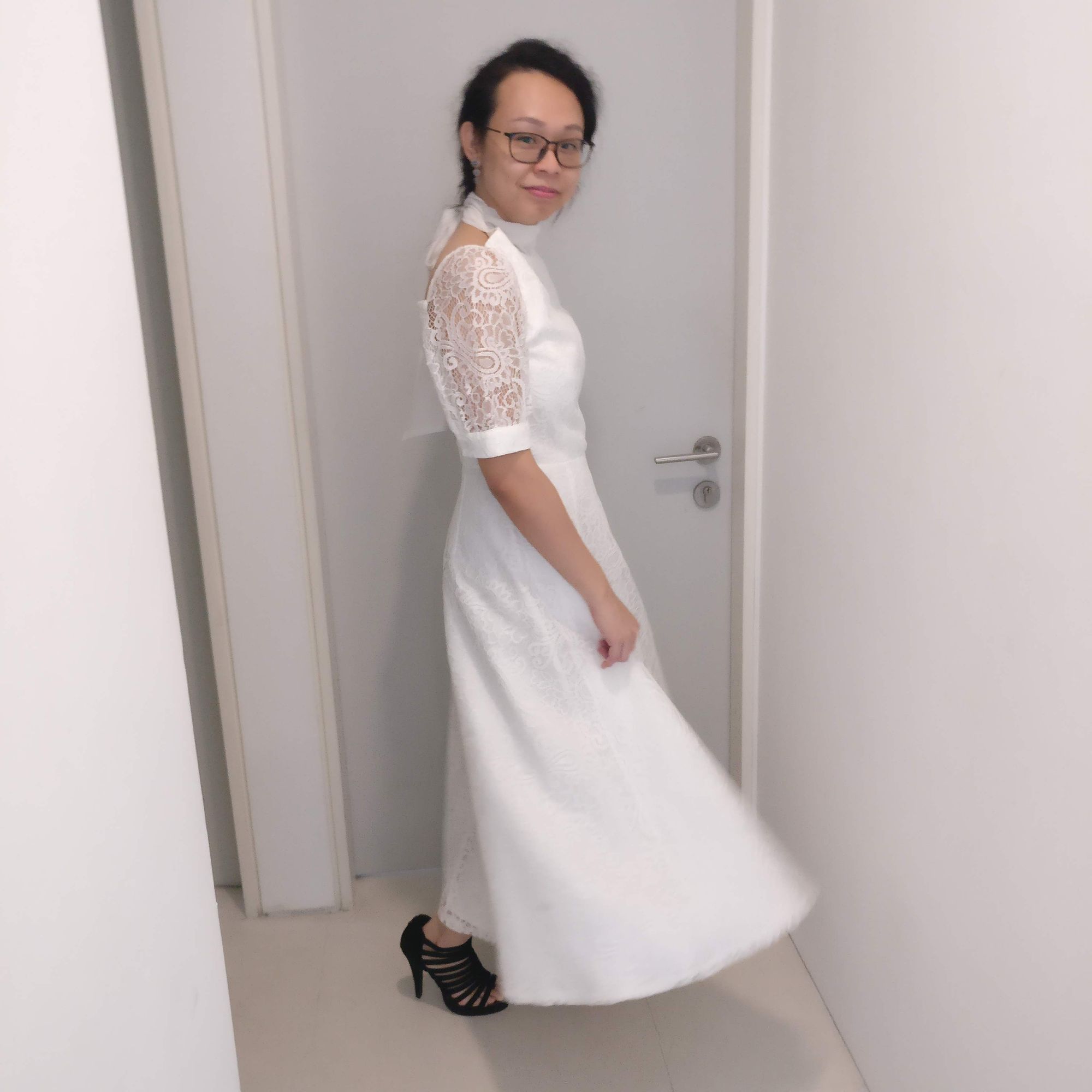 Also bought a dress from onesimplegown just as another option.  This was intended for the tea ceremony. Check it out!
All of these need tailoring to fit better, and timing it might be crucial, since I bought this about 9~10 months before our receptions. However, this means that I have one less item to worry about! *self high five
Will update on what it looks like professionally photographed on our event days. ;)